City Shopping: London
London has several distinct shopping areas and shopping streets, many of which have their own themes or specialities. 
Shopping in London is exciting and varied: from luxury goods in Mayfair to quirky finds in Covent Garden, to large shopping centres such as Westfield and famous London department stores including the likes of Harrods. You can easily spend an hour, an afternoon or a whole day browsing shops in London.
Here's our guide to the best shops in London for your ultimate London shopping experience.
Oxford Street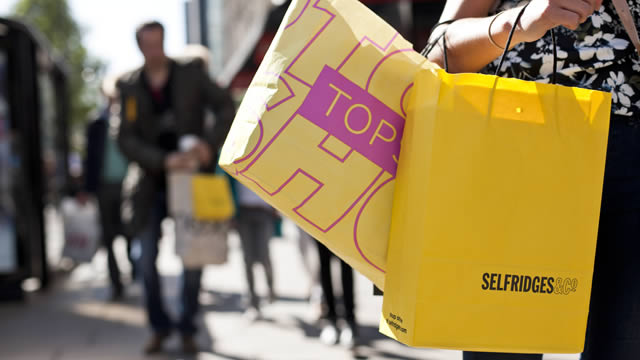 The heart of London shopping, bustling Oxford Street has more than 300 shops, designer outlets and landmark stores: here you can find some of the best shopping in London. Home to the legendary Selfridges, it also boasts a range of famous department stores such as John Lewis and Debenhamsscattered among every well-known high street chain imaginable. Grab some bargain fashion at Primark's massive flagship store, and check the latest trends at Topshop in Oxford Circus. Get off the beaten track by slipping into a side street, such as St Christopher's Place and Berwick Street, where you'll find some real treats.
Nearest Tube: Oxford Circus, Bond Street or Tottenham Court Road
Regent Street and Jermyn Street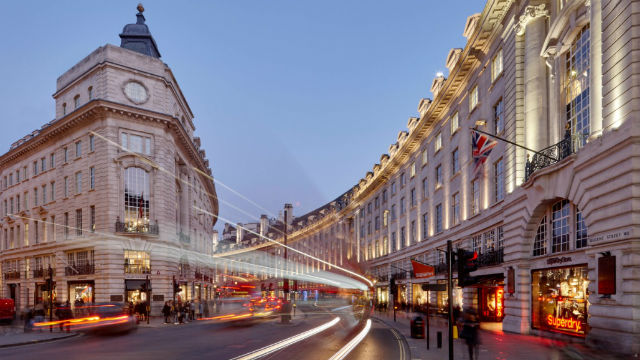 An impressively elegant shopping street, Regent Street offers a good range of mid-priced fashion stores alongside some of the city's oldest and most famous shops, including Hamleys, Liberty andThe Apple Store. Nearby, historic Jermyn Street is renowned for men's clothing shops and is so typically British it's enough to bring out the old-fashioned gent in anyone! Jermyn Street is particularly well known for its bespoke shirt makers such as Benson & Cleggand shoe shops including John Lobb.
Nearest Tube: Piccadilly Circus or Oxford Circus
Bond Street and Mayfair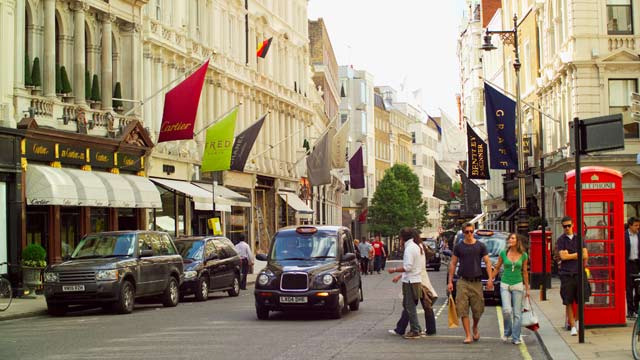 Whether you want to splash out on the very best in designer clothes or just love luxury window shopping, Bond Street and Mayfair are the ideal places to go for some extravagant retail therapy. Popular with celebrities on a spree, this is probably London's most exclusive shopping area, home to big names, including Burberry, Louis Vuitton and Tiffany & Co. Neighbouring South Molton Street boasts iconic fashion store Browns. 
Nearest Tube: Bond Street or Piccadilly Circus

Indulge in the truly British experience
Westfield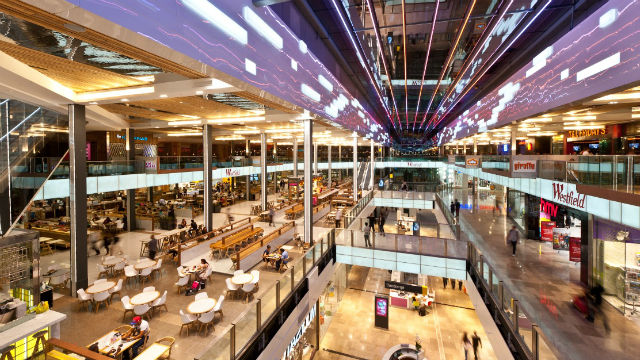 Westfield has two major shopping centres in London at White City and Stratford. Westfield London is home to high street favourites including Debenhams, Next, Marks & Spencer and House of Fraser, along with luxury brands, such as Louis Vuitton, Jimmy Choo, All Saints and Ted Baker. There's also a cinema, gym, several bars and restaurants, all under one roof! If you're a fan of shopping centres, don't miss Westfield Stratford City in East London, which boasts 250 shops plus 70 places to dine, making it one of the largest shopping malls in Europe
Nearest Tube: White City or Shepherd's Bush for Westfield London, and Stratford for Westfield Stratford City.
Carnaby Street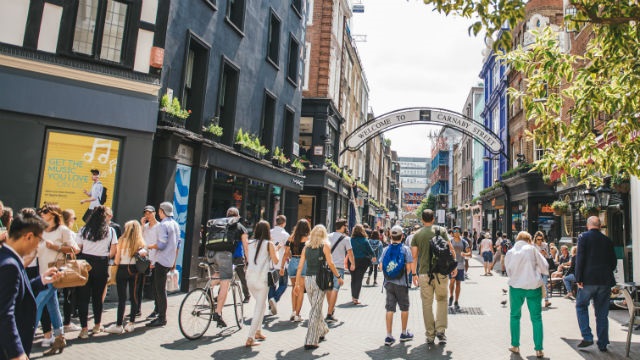 The birthplace of the fashion and cultural revolution during the Swinging 60s, the 13 streets that make up Carnaby are located between Oxford Street and Regent Street, and feature more than 100 brands and 60 restaurants, bars, cafes and pubs. Step under the iconic arch to find an intriguing mix of independent boutiques, heritage brands and new designer names, as well as a choice of cafes, restaurants, bars and great English pubs. Refuel at restaurant hub Kingly Court, just off Carnaby Street.
Nearest Tube: Oxford Circus or Piccadilly Circus
Covent Garden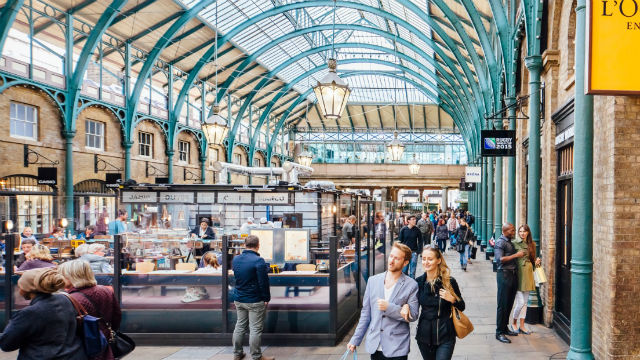 Whether you want hip fashion, unique gifts, rare sweets or one-off handmade jewellery, Covent Garden is a great place to explore. Stock up on the latest urban streetwear, funky cosmetics and shoes on Neal Street, check out imaginative arts and crafts at Covent Garden Market or just window shop around the stores. Don't miss Floral Street, Monmouth Street, St Martin's Courtyard, Shorts Gardens, Seven Dials and picture-pretty Neal's Yard for a true taste of London's most distinctive shopping area.
Nearest Tube: Covent Garden or Leicester Square
King's Road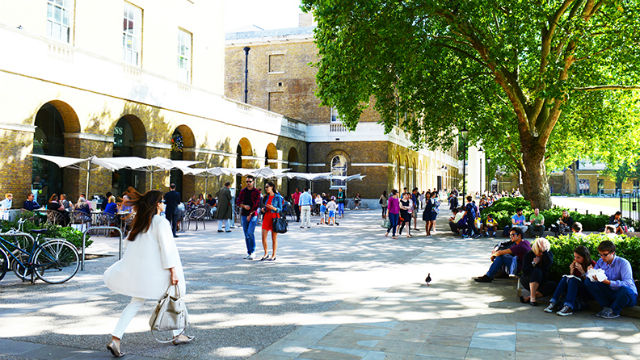 In posh Chelsea's King's Road you'll find an eclectic mix of chic boutiques, unique labels, designer shops and high-street staples, alongside a vast array of cafes and restaurants. It's also a great place for inspirational interior design, with Peter Jones, Heal's and Cath Kidston all vying for attention. Be sure to check out Duke of York Square: located just off the King's Road, this tranquil square is home to more than 30 fashion and lifestyle retailers, including one of Europe's largest Zara stores. You can also visit the store where punk was born in the 70s, Vivienne Westwood's shop and a treasure trove of antiques at the Chelsea Antiques Market.
Nearest Tube: Sloane Square
Knightsbridge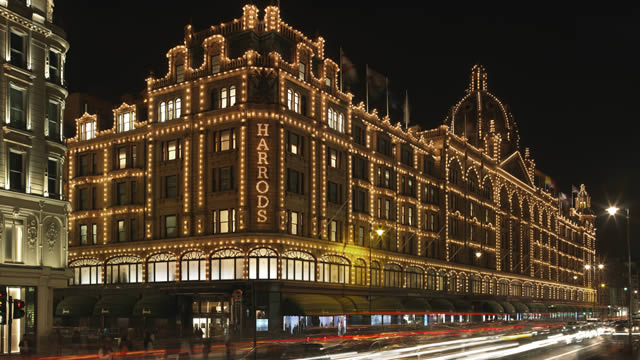 Visitors from around the world flock to Knightsbridge and Brompton Road to visit the illustrious shops and department stores. This is the place to go if you're looking for prestigious brands and up-to-the-minute trends from the world's fashion elite. Best known for Harrods and Harvey Nichols, you'll also find big-name fashion designers on Sloane Street, as well as high-street brands such as Topshop opposite Harrods.
Nearest Tube: Knightsbridge
Savile Row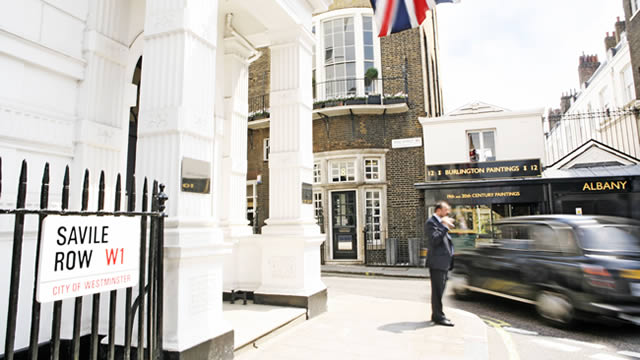 Known worldwide as the home of bespoke British tailoring, Savile Row is the place to come if you want a handmade suit crafted the old-fashioned way (with a price tag to match). Credited with inventing the tuxedo Henry Poole & Co – also the first Savile Row tailor – is still cutting cloth at No 15. Other big names include Gieves & Hawkes, Huntsman & Sons and Ozwald Boateng. On the corner of this "golden mile" of tailoring you'll also find the flagship Abercrombie & Fitch store.
Nearest Tube: Bond Street or Piccadilly Circus
Camden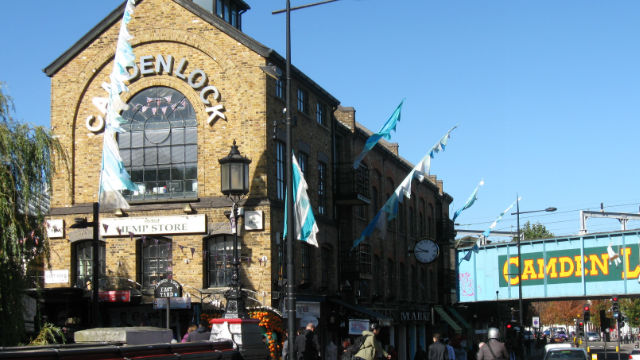 Camden is the ideal shopping destination for lovers of alternative clothing. Here you can find some of the most unusual London shops. Get off the Tube at Camden Town, walk along Camden High Street, and you'll find plenty of stores selling gothic fashion and punk clothing, alongside tattoo and piercing parlours. Further ahead, Camden Lock Market has it all, whether you are looking for a perfect birthday gift or a souvenir, from hand-crafted jewellery, to vintage leather bags. And don't miss the futuristic cyber clothing shop Cyberdog.
Nearest Tube: Camden Town
Notting Hill
Famous worldwide thanks to the film of the same name, Notting Hill offers a vast array of small, unique shops selling unusual and vintage clothing, rare antiques, quirky gifts, books and organic food. There's the popular Portobello Road Market – a mile-long (1.6km) street with vibrant stalls set out daily. Nearby Westbourne Grove offers more high-end shopping, with stylish designer shops dotted between a mix of quirky boho boutiques, hip cafes and art galleries.
Nearest Tube: Notting Hill Gate, Ladbroke Grove or Westbourne Park

Fill your stomach without emptying your wallet!
Spitalfields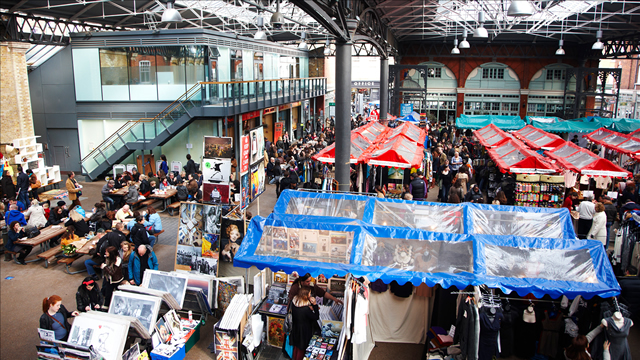 Head to Spitalfields for a great range of independent shops. A vibrant hub for young designers and creative businesses, Spitalfields hosts independent boutiques including Mercantileand Collectif Clothing, as well as renowned brands, such as Barbour and Belstaff. Don't miss lively Old Spitalfields Market, with its array of stalls selling antiques, fashion and street food under a beautiful Victorian arcade.
Nearest Tube: Liverpool Street
Canary Wharf
Sleek and modern Canary Wharf, in London's Docklands, is home to many of the UK's leading businesses, but it is also a great shopping destination, open seven days a week. Canary Wharf shopping boasts more than 120 shops across five shopping centres around Canada Square, with all the major high-street chains as well as a good selection of designer shops. Look out for big names such as Oasis and Zara plus lingerie brand Myla and luxurious fragrance store Jo Malone. As long as you avoid the weekday lunch-hour rush, it's one of London's most chilled-out shopping experiences.
Nearest Tube: Canary Wharf
Where to shop: LONDON
Oxford Street: mid-market flagships
Regent Street: mid-market flagships
Bond Street: international designer brands
Mayfair: bespoke tailoring, heritage brands, designer boutiques
Marylebone High Street: independent boutiques, accessories and interiors
Knightsbridge, Sloane Street and the Kings Road: designer and mid-market flagships
Soho and Carnaby: youth, street, denim and young designers
Covent Garden: youth and street brands
Notting Hill: designer boutiques, antiques and vintage
The East End: vintage, independent designers
Camden: alternative, youth and vintage
Oxford Street: mid-market flagships
Selfridges
400 Oxford Street
Area: Oxford Street
Topshop
214 Oxford Street
Area: Oxford Street
Urban Outfitters
42-56 Earlham Street
Area: Covent Garden
Mango
225 Oxford Street
Area: Oxford Street
Zara,
H&M
261-271 Oxford Circus
Area: Oxford Circus
Primark Discount Fashion Store
Regent Street: mid-market flagships
H&M's grown-up, more sophisticated sister, COS;
Uniqlofor understated Japanese discount fashion;
Spanish retailers Hos Intropiaand Desigual;
Tommy Hilfigernew flagship store
UK interiors retailer,Habitat;
Libertydepartment store.
Bond Street: International Designer Brands
Alexander McQueen, Gucci, Prada, Chaneland Yves Saint Laurentare on Old Bond Street, while Miu Miu, Celine, D&Gand Burberryare on New Bond Street.
Mayfair: Bespoke Tailoring, Heritage Brands, Designer Boutiques
Savile Row for a choice of bespoke tailors including Hardy Aimes, Gieves & Hawkesand Oswald Boetang. Also edging their way in are more directional stores, including the excellent b Storeand the Evisudenim concept store.
Marc Jacobsopened his first London flagship on Mount Street – evidently doing for real estate trends what he does for fashion ones. Opposite is one of our favourite London womenswear boutiques – Emperor Moth– great for visual merchandising inspiration.
On Conduit Street, PPQ, Vivienne Westwood, Donna Karan, Issey Miyake , Mandarina Duckand Yohji Yamamoto. Luella Bartley's one and only store can be found on Brook Street.
Marylebone High Street: Independent Boutiques, Accessories and Interiors
Divertimenti, Shoon,Mint, Skandiumand The Conran Shopfor stylish homewares and VV Rouleauxfor pretty trimmings.
Knightsbridge, Sloane Street and Kings Road: designer and mid-market flagships
Harvey Nicholsand Harrodsare high on anyone's listt. Also recommend the spacious H&M store.
Sloane Street is packed with international designers, from Alberta Ferretti through to Chloé, Dior, Marni, Paul & Joe and Valentino. For kidswear head to Bonpoint, Oilily and Baby Dior (Harriet Street), and for exclusive accessories Dinh Vanfor your diamonds and Tanner Krollefor luxury luggage.
On Kings Road proper are a number of key mid-market and denim flagships including Diesel, and an impressive Jigsawfor womenswear and kidswear, as well asTrotters and Daisy & Tom. For interiors, the Designers Guild. The Shop at Bluebirdfor a mixed bag of designers and lifestyle products set in a constantly evolving and ever-inspiring store.
Soho and Carnaby: youth, street, denim and young designers
Office, Swear, Size, Converse and Slammin' Kickscovers the footwear market.
For clothing, All Saints, American Apparel, The Dispensary, 55DSL, Diesel, Miss Sixty, Fornarina and Energie. The changing stock at hip concept boutique Beyond the Valley.
Covent Garden: youth and street brands
Poutfor a good selection of fun cosmetic brands and go next door to Cath Kidstonfor your floral-printed essentials. For streetwear, apparel and footwear, walk along Neal Street, where there's Urban Outfitters, Diesel, Paul Frank and Birkenstock. On Shelton Street there's Criminal and Mambofor streetwear and Rokit for vintage.
Notting Hill: Designer Boutiques, Antiques and Vintage
Diptyquefor fragrances and candles; Bonpointfor fancy French kidswear and Nanette Lapore, Joseph, Comptoir des Cotonniers and agnès b.for womenswear. The Crosson nearby Portland Road for select designer labels and lifestyle products.
Camden: Alternative, Youth and Vintage
Sai Saifor Lolita Goth looks and Fairy Goth Motherfor classic goth styles; Roomscape, Shift 67 and Bucks Trunkfor interiors; and Modern Age, Episode and Rokitfor vintage.
Victoria & Albert Museum – south kensington
Tate Modern – south bank
Tate Britain – pimlico
National Gallery – trafalgar sq